ABOUT ORGAN MOUNTAIN DENTAL
We are here to help whether you have a toothache, need an implant, or just want to get your teeth cleaned. Call our dental office today and schedule an appointment.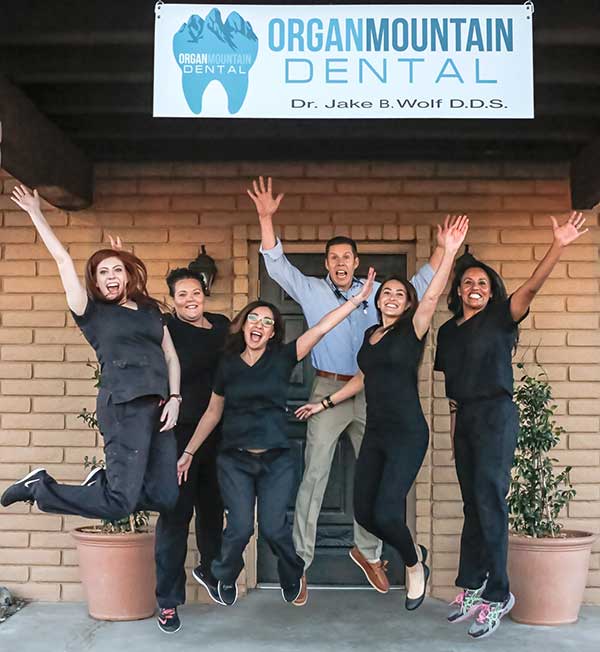 Our Family
We are always happy to grow our family of patients. Dr. Wolf and his team love to see patients of all ages, from toddlers to retirees. From the first phone call, we want you to feel welcome and relaxed. Whether you talk to Tanya or Dennise, you will feel like you have known them for years.  We all think that Diana is the best hygienist in southern New Mexico and we are so proud to have her on our team.
Our new patients can't believe how clean their teeth feel after an hour in Diana's chair. Our whole team is committed to providing your family with the most comfortable dental experience possible.
Dr. Wolf, Tanya and Liz have practiced in a pediatric practice and they use the same gentle touch with kids and adults. Our whole team believes that when it comes to dentistry, an ounce of prevention is worth a pound of cure.
If you find yourself needing restorative or emergency dentistry you can trust Organ Mountain Dental to make it a smooth, comfortable process. Dr. Wolf uses the strongest topical numbing gel on the market and unlike the commonly used gels, it definitely works! If you do have to get numb Dr. Wolf uses a gadget called the Vibraject for every single injection. The Vibraject is an amazing device that helps take the sting out of a local anesthetic. Many patients don't feel anything at all!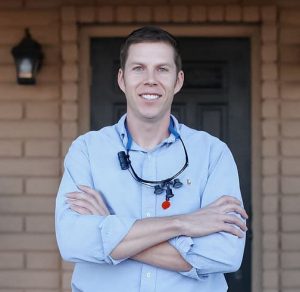 Jake B. Wolf, DDS
Dr. Wolf grew up in the Kansas City suburbs; an upbringing that he credits for developing his strong Midwestern values. People that meet him quickly notice that he is down to earth, friendly, and approachable. He received his bachelor's degree from the University of Kansas where he spent his free time running the university's rock climbing club. Dr. Wolf spent four years, at the University of Missouri Kansas City School of Dentistry, where he earned his Doctorate of Dental Surgery in 2014. While attending the dental school he was the president of his school's esthetic dentistry club, was a member of the ethics club and formed a student-run dental study club.
Dr. Wolf still loves Kansas City but is happy to call Las Cruces home. He first visited Las Cruces when he pedaled through town on a cross-country bicycle trip from FL to CA. The Organ Mountains left a lasting impression on him and in 2014 he jumped at the opportunity to move to Las Cruces. After graduating he began practicing dentistry with a group of dentists that only treated children. While he enjoyed it, he quickly realized he wanted to be able to treat adults too. In 2015 he joined a dental group in El Paso where he was able to practice comprehensive family dentistry. In 2017 he purchased his own practice, Organ Mountain Dental, right here in Las Cruces. Dr. Wolf loves attending continuing education courses and he has a genuine passion for dentistry. His gentle approach and calm demeanor help put patients at ease. He enjoys a wide variety of dental procedures from fillings and crowns to implants and root canals, but his favorite part of being a dentist is getting to interact with patients every day.
In his spare time, Dr. Wolf enjoys hiking, rock climbing, mountain biking, yoga, snowboarding and pretty much any other outdoor activity. He can often be found hiking and biking around Tortugas Mountain or exploring the Organ Mountains.
Tanya, EFDA, CPT
Tanya moved to Las Cruces in 2014 to study Biology at NMSU and instantly fell in love with everything our beautiful city has to offer. Tanya joined our team just before she graduated from NMSU with a bachelor's degree in biology. Tanya brings over a decade of dental assisting experience in general dentistry, cosmetic dentistry, pediatric dentistry, and orthodontics.
Here at Organ Mountain Dental, she is our office manager. In addition to running our office, she is EFDA certified, which is the highest level of certification for a dental assistant in New Mexico and a Phlebotomist. Tanya loves connecting with people and she always goes above and beyond to make sure our patients have a great dental visit. She is always smiling and eager to help, whether she is helping you maximize your insurance benefits, putting on your crown or fillings, or just getting you a blanket to make you more comfortable.
In Tanya's free time she loves being outdoors, working out, fitness, nutrition and snowboarding. She also absolutely loves dogs so make sure you show her pictures of your four-legged friends.
Diana, RDH
I have been a hygienist for 20 years. I was with Dr. Cordova for all of the 20 years until her retirement last year. I graduated with a Bachelors Degree in Biology from Abilene Christian University in 1994 and a Bachelors Degree in Dental Hygiene from the University of New Mexico in 1997. I am also certified in local anesthesia. I value the quality of care I give to each one of our patients and truly enjoy the relationship I have built with them over the years.
I am a proud native of Las Cruces and my husband and I have been happily together for 20 years and have 3 wonderful boys. I enjoy spending time with my family and friends watching sports, playing sports, or time outdoors.
I look forward to seeing you!

Liz, DA
Meet Liz, your dedicated and skilled dental assistant at Organ Mountain Dental. Liz has over ten years of dental assisting experience, she is a DANB & NM certified dental assistant, as well as an NM certified phlebotomy technician. Liz is known for her high quality patient care and exceptional level of professionalism.
Liz first fell in love with assisting when she was pursuing dental hygiene. However, after experiencing the immense procedure diversity in restorative dentistry Liz knew her passion lay in dental assisting. Liz graduated from Las Positas College in Livermore,  CA with an Associates of Arts in Biology degree focused on Allied Health in 2013. Outside of work Liz likes to spend quality time with her family and friends, she loves the outdoors, and enjoys good music and concerts.
Liz's motto: Coffee, Scrubs, and Nitrile Gloves Darling!

Will
Will maintains our equipment and provides our Office with the highest level of efficiency. He takes on a variety of roles, from maintaining equipment and keeping us organized, to putting final touches on our CEREC crowns. 
Call our dental office today and schedule an appointment.